Welcome to your SwitchArcade Roundup for October 12th, 2018. Your life of the party, Phil is here to share some more Switch-related news, impressions, new releases, and eShop sales-related info for your Friday! Today, I have some Super Mario Party impressions for all of you party animals out there. If you have a "Mario Party" like I have, then the party won't end until everyone stops speaking to each other! …Good times. Good times.
Game of the Day
Super Mario Party ($59.99)
I'm going to do something unheard of and break the rules of the SwitchArcade Roundup. Wait. I just forgot about Rule #1 of the SwitchArcade Roundup–there ARE NO rules! Nevertheless, today I'm combining the Game of the Day with my impressions of Super Mario Party, as I've gone through the game's main modes in-depth enough to know I really like what's on offer here with the Mushroom Kingdom's latest bash.
Super Mario Party is an entry that's a bit of a refresh for the Mario Party series in general, going back to the series's roots. Part of that is clearly seen by the re-branding of the title, offering a fresh start for Mario Party–excuse me, SUPER Mario Party.
With going back to the roots, Nintendo and developer ND Cube have eschewed Mario Party 9 and Mario Party 10's car mechanic, returning to nonlinear boards where every player moves separately. This time around, boards are much smaller compared to the original Mario Party games. There are less spaces, but what's featured in these boards is something much denser, offering greater variety. A problem I had with past Mario Party games was that games had so many turns where nothing really happened besides movement.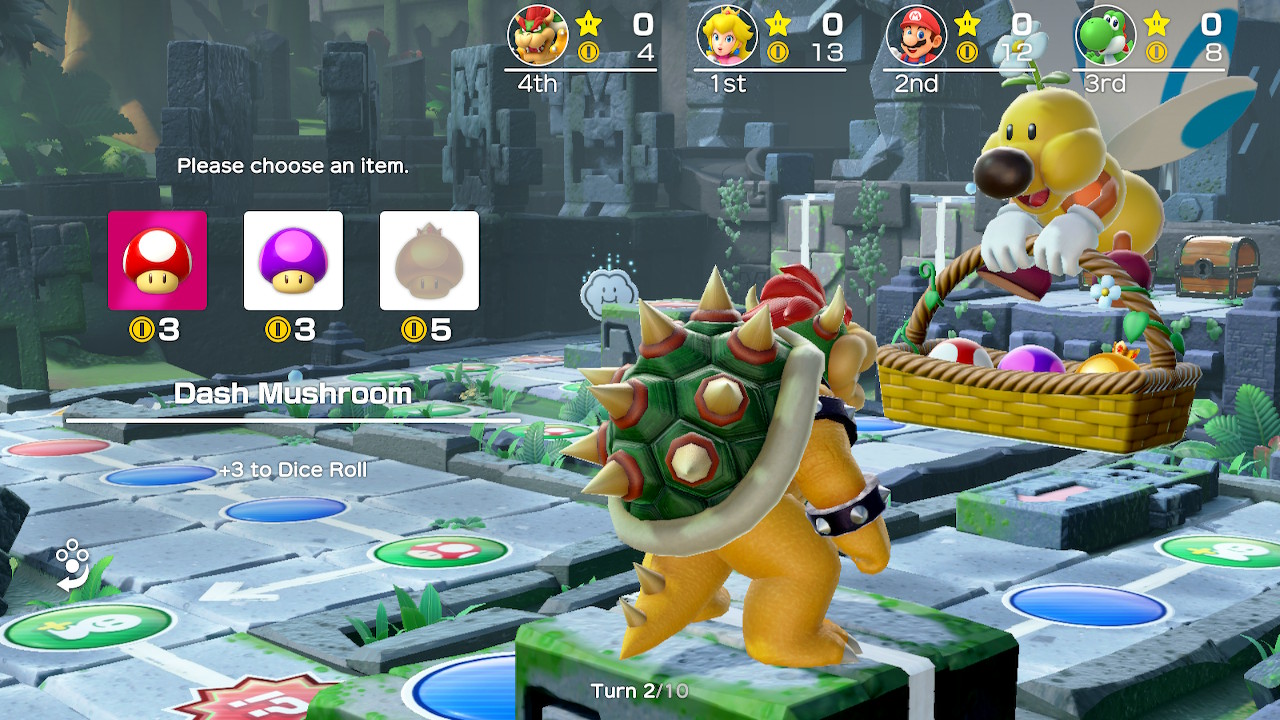 The smaller real estate of boards ensures that players have opportunities for more interactions with the boards themselves. Whether it's accumulating Stars at a faster pace than usual, landing on Event spaces to shake things up, or interacting with one of the many characters on each board, there's always something to see and do in Super Mario Party's boards.
The boards in Super Mario Party double up their usage, delivering a completely different experience in Partner Party, where two teams of two "partner" up and move freely around a grid-like board. They then work together to win mini-games, earn coins, and ultimately get enough Stars to win the board. This is similar to what was introduced in the Nintendo 3DS's Mario Party: Star Rush, at least with how movement is handled–being on a grid and all. The boards of the Mario Party mode in Super Mario Party have been re-purposed, offering new events and obstacles to overcome.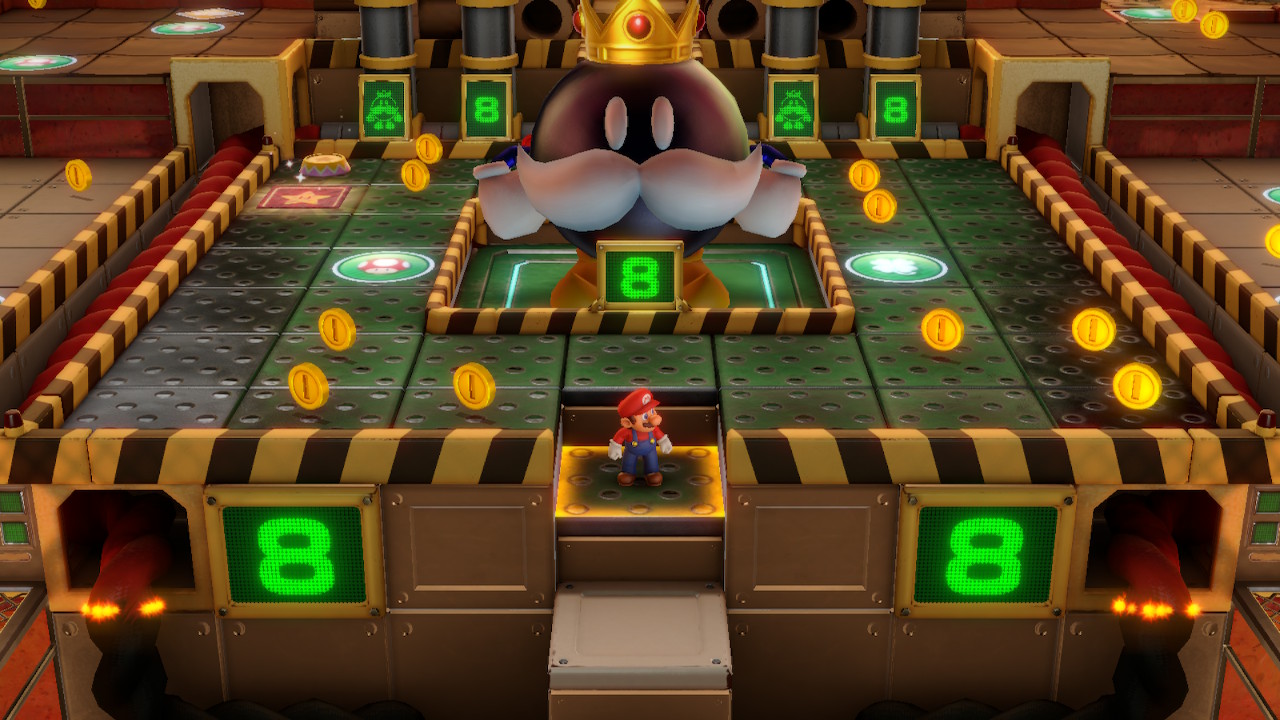 While Super Mario Party goes for a quality over quantity approach with its boards (sadly only having four total), the game definitely delivers quality and quantity when it comes to its modes and mini-games. With modes, Super Mario Party gives players the aforementioned Mario Party and Partner Party modes, but also River Survival–where players must work together to paddle down a raging, multi-diverging river, and earn enough time to reach the river's end. This is performed by playing four-player co-operative mini-games, which thankfully, the AI even on the easiest difficulty assists with beautifully.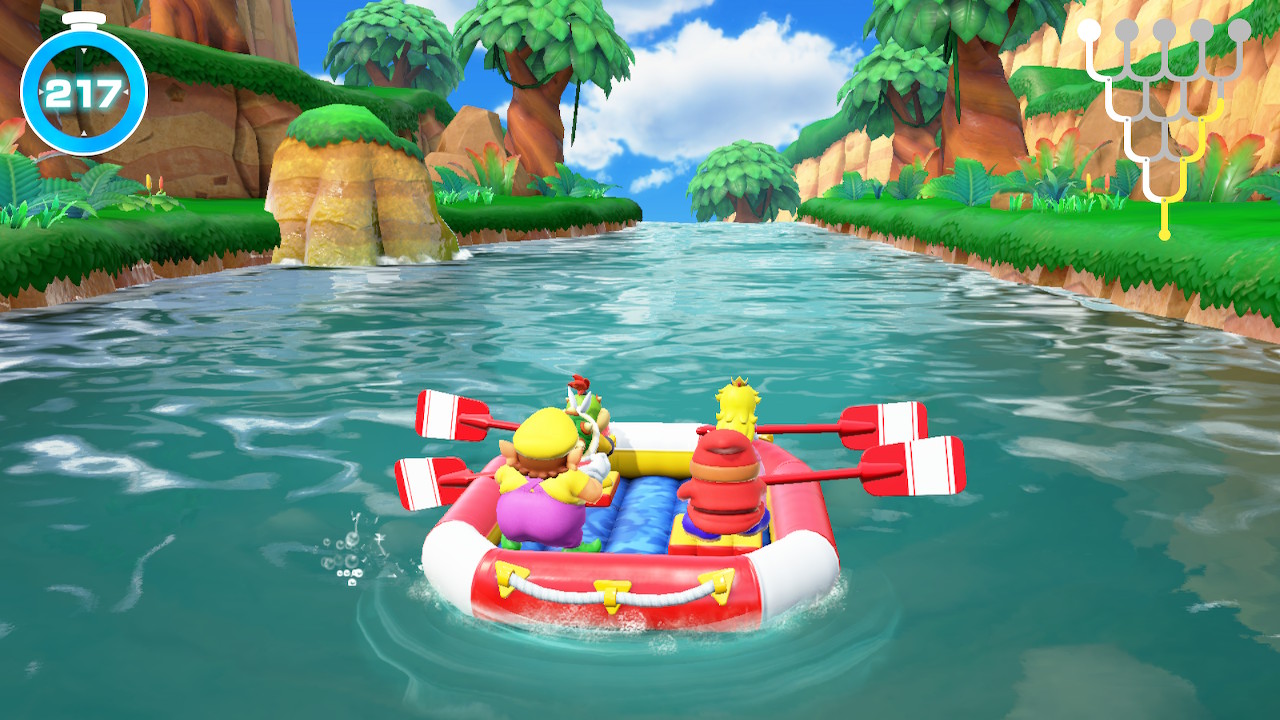 Then, there is Challenge Road, the mode for solo players to tackle all 80 mini-games within Super Mario Party. Here, you're tasked with completing mini-games with certain ground rules attached to them, so even if you get first place in a mini-game, if you don't complete the goal, you won't clear the game. Fortunately, even if you fail a mini-game multiple times, there is no severe punishment as you have unlimited continues and you're even given the opportunity to skip a particular mini-game if you fail it too many times in a row.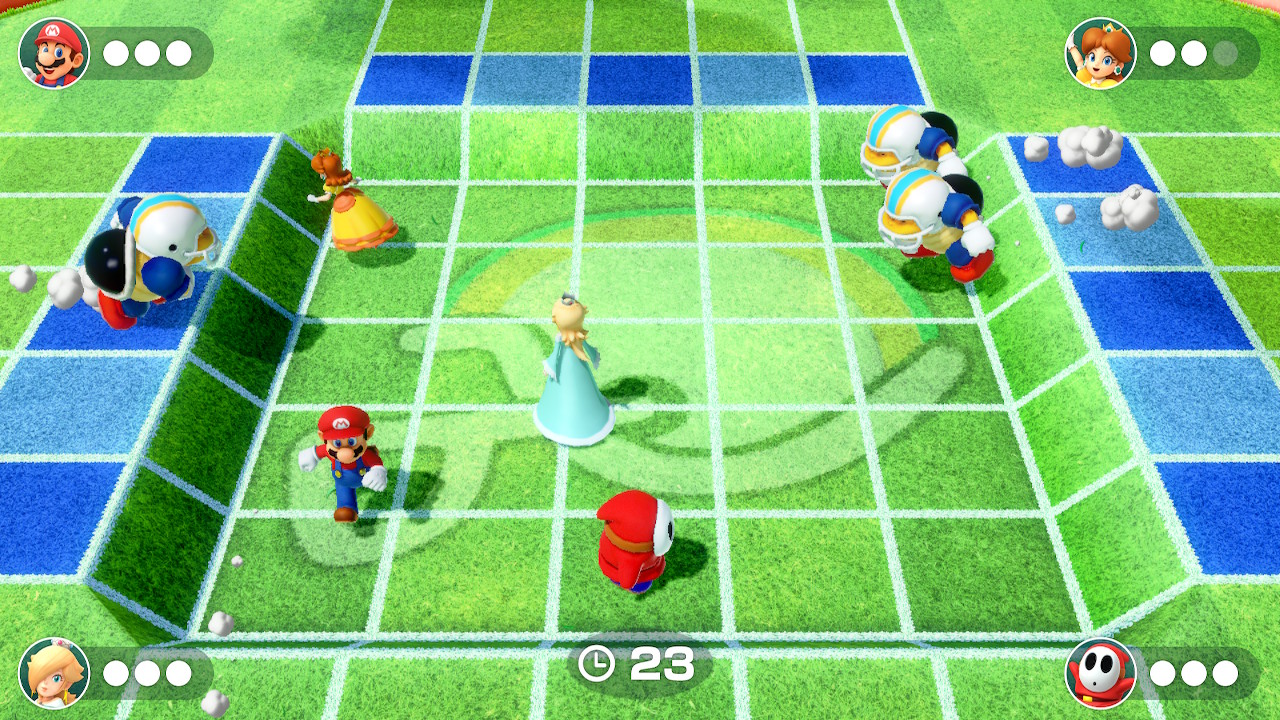 The main goal of Super Mario Party is to earn all five gems to determine which character is crowned the Superstar of the party. By completing all boards in both Mario Party and Partner Party modes, clearing Challenge Road, reaching the five different endings of River Survival, and beating all rounds of the rhythm-based mini-games, you earn all five gems and see the credits roll. However, the party doesn't end there. No, no. There are even harder versions of modes to tackle, online play via specially selected mini-games against players around the world, and other unlockables that I don't want to spoil (though they're nothing really mind-blowing, mind you).
Super Mario Party might lack the amount of boards most of us are used to having in a Mario Party game, but it certainly shines in delivering an engaging and most importantly, fun experience for all players of all ages and skill levels. The mini-games of Mario Party games developed by ND Cube continue to be brilliant, and the ones in Super Mario Party use a single Joy-Con controller well. (There is no Pro Controller support, just in case you're wondering.) This is a party worth RSVPing you. Heck, you don't even have to RSVP to it! Sure, some of you party animals will have to shell out $59.99 to attend, but that's better than an RSVP… right?
News
Yo-Kai Watch 4 gains a Japanese trailer and ten minutes of direct-feed gameplay footage
At Tokyo Game Show 2018 several weeks ago, Level-5 showed off a trailer and some gameplay footage of Yo-Kai Watch 4. At that time, Yo-Kai Watch 4 was planned for release by the end of the year. Now, the game has been delayed to next spring–though this piece of news isn't focusing so much on that.
Regardless, at TGS, there was off-camera footage of Yo-Kai Watch 4, but today there's direct-feed footage of the game as delivered directly from Level-5. This includes the game's debut trailer and some extended gameplay to show it off in action. While the frame-rate is inconsistent, hopefully the delay will afford the development team time to iron it out. For now, take a glimpse at some Yo-Kai Watch 4 in all of its new-fangled home console glory.
Gal Metal gets ready to rock on the Switch with this release date announcement trailer
Taiko no Tatsujin isn't the only drum-based rhythm game coming to the Switch within the next month. Now, Gal Metal arrives on October 30th in North America courtesy of XSEED while Europe gets the game on November 2nd thanks to Marvelous. Gal Metal previously released in Japan in early February of this year, and it wasn't quite a hit. Quite the opposite, actually–at least when it concerned sales.
However, now Gal Metal gets a second chance at success with both an eShop release at $29.99 and a physical "World Tour Edition" for $39.99. The latter contains a DLC pack containing five characters with one episode of story content and a song apiece included with the release. Meanwhile, eShop buyers can make a separate purchase of this DLC for $9.99, so everyone can be happy! For those about to rock, I salute you.
The subject of cross-play for Diablo III on the Switch gets touched upon by Blizzard Entertainment
If you're wondering about the potential for cross-play for the Switch version of Diablo III, Blizzard Entertainment has an answer. Business Insider Australia reports that a representative from Blizzard informed that cross-play for Diablo III on the Switch with the PlayStation 4 and Xbox One is "a question of when, not if." Seeing Sony's recent turnaround with cross-play with other home consoles as well as Nintendo and Microsoft's already enthusiastic approach with cross-play between their own systems, it seems that Blizzard's response is one to believe.
UPDATE: And just like that, moments before publishing this the source of that original comment has been shot down by an official statement from Blizzard provided to Dualshockers, who says "While we love the idea of bringing our players together across platforms, we do not have any plans to implement cross-platform gameplay for Diablo at this time." Boo!
Other Headlines
Onion Games' Black Bird flies onto the Nintendo Switch next week
New Releases
The World Ends With You: Final Remix ($49.99)
The power is yet unknown! The original World Ends With You released on the Nintendo DS over ten years ago. It has since seen an updated iPhone version, and now it sees a Nintendo Switch release with The World Ends With You: Final Remix. Containing additional content–such as a bonus chapter featuring a new character–new and updated music, and touch-based controls via undocked mode or controls in docked mode using the Joy-Con's pointing technology, The World Ends With You remains a fantastic game with a fantastic concept. However, the execution on the Switch with regards to the control setups on offer is a mixed bag for some.
Sales
One Overcooked discount ends, while another Overcooked discount begins! This time around, Overcooked! 2 is on sale for a couple of weeks. As for the original Overcooked, this is your last full day to get the game half off. Take a look at the other games losing their discounts this weekend and on Monday, too!
New Games on Sale
Overcooked! 2 ($19.99 from $24.99 until October 21)
Sales Ending This Weekend
Mugsters ($8.99 from $14.99 until October 13)

Overcooked Special Edition ($9.99 from $19.99 until October 13)

Raging Justice ($7.49 from $14.99 until October 13)

The Escapists 2 ($11.99 from $19.99 until October 13)

Worms W.M.D. ($17.99 from $29.99 until October 13)

Devious Dungeon ($5.99 from $7.99 until October 14)

InkSplosion ($3.74 from $4.99 until October 14)

Mummy Pinball ($1.79 from $1.99 until October 14)

The Mystery of the Hudson Case ($4.15 from $4.89 until October 14)

Vertical Drop Heroes HD ($6.99 from $9.99 until October 14)
Sales Ending Monday, October 15th
Alteric ($0.99 from $4.99 until October 15)
forma.8 ($4.99 from $9.99 until October 15)
Guacamelee! Super Turbo Championship Edition ($13.49 from $14.99 until October 15)
Mulaka ($15.98 from $19.98 until October 15)
Party Planet ($19.99 from $29.99 until October 15)
We've reached the end of today's SwitchArcade Roundup. This was an abbreviated week of the SwitchArcade Roundup, but I'm going to fire on all cylinders next week! Until then, not only do I want to read your thoughts on the week's news and releases, but I also want you to keep your Joy-Cons charged and your Switches loaded with great games!